Profiles•Book Reviews•Upcoming Book Releases
Exploring local books


You can purchase any of these titles by clicking on the cover image.

How Hollyhocks Came to New Mexico

Rudolfo Anaya with illustrations by Nicolas Otero and translation by Nasario Garcia

Rio Grande Books
ISBN 978-1-936744-12-1 $24.95


Rudolfo Anaya, the dean of Chicano literature and the author of "Bless Me Ultima," has written a charming new children's book. The book presents an Anaya-created folktale that explains the origins of hollyhocks – a popular, drought-resistant garden flower – in New Mexico.
This bilingual tale begins far from the Land of Enchantment and hollyhocks aren't mentioned until late in the tale.
King Herod is infuriated that Jesus also is called "king" and doesn't show up before him as demanded. So Herod orders the death of all the children of Bethlehem. An angel named Sueño tells Jesus, Mary and Joseph to flee to Egypt.
Because Egypt is so far, the angel comes to their rescue, offering them a ride on his back. Trouble is Sueño gets lost and they all end up in New Mexico, parts of which apparently resemble the Holy Land. Sueño later blames the misdirected flight on his nearsightedness.
The Holy Family find their way to some of the Pueblo people. Joseph helps the men cut trees for doors and roofs. Jesus helps the boys carry adobe bricks to workers building houses. Mary grinds blue-corn kernels in a metate for unleavened bread.
Jesus, Mary and Joseph head north to a large pueblo where they witness dances. They notice the ladders for access to second stories of pueblo homes and to cave dwellings.
The Holy Family doesn't plan to remain in New Mexico forever. Jesus wonders if Sueño needs a ladder to climb down to retrieve them and take them back home. So Joseph cuts trees for the ladder. Before they depart up the ladder with the now bespectacled Sueño, Joseph plants his walking staff in the ground. Miraculously, hollyhocks make their appearance in the next growing season exactly where the staff is. The flower has since spread statewide.
In Spanish, hollyhocks are called "varas de San José" or staffs of St. Joseph.
Anaya says the tale was inspired by the surprise appearance of hollyhocks in the garden of his Albuquerque home.

Reviewed by David Steinberg —
Albuquerque Journal
, December 2, 2012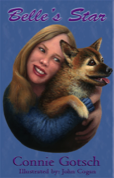 Belle's Star

Constance Gotch
Artemesia Publishing
ISBN 978-1-932926-01-9 $7.99


The narrator in BELLE'S STAR is Belle, a smallish, reddish, farm dog bred to herd cattle and hence referred to as a "heeler." We learn right away, in this 125-page book written for children ages 10 through 12, that Belle is perceptive, curious, and nervous in new situations-which is to say that kids who buy the book will relate to her immediately. Moreover, she is an awesome storyteller, which is no less than one would expect from a creation of award-winning novelist like Connie Gotsch.

Belle was badly mistreated on the farm where her life began. When we meet her, the farmer and his nasty son are in the process of taking her for a one-way ride in their truck. They kick her out at a gas station and hope never to see her again. But she is rescued by a girl named Darcy and Darcy's aunt Ellen, who happen to be at the station and are witness to what the reader hopes will be Belle's final incident of abuse.
Belle is adorable, and the reader understands that her rescuers are bound to fall in love with her and try to help her out. The suspense comes from wondering whether or not Belle will decide to accept their help-or even recognize it as such. Having known nothing but bullying during her life on the farm, it will take more than a bath and a few doggie treats for Belle to learn to trust. And ultimately it will take an incident in which Darcy is threatened for Belle to learn her first lesson in loyalty.
Connie Gotsch has succeeded in creating a world from a dog's point of view. Buildings are "dens," rooms are "burrows," doorways are "holes," and people are described more often by their smell than how they look. Sounds and textures are also amplified. There are other dogs and even a cat in the story, and their friendly and sometimes foolish communication is reminiscent of the animals in the 1993 hit movie "Homeward Bound: The Incredible Journey."
BELLE'S STAR is a page-turner, full of adventure and snappy dialogue and even a subplot concerning Darcy and her uncle. But it is also a book full of valuable lessons. Young (and older) readers will learn some good tips about how to treat animals, which is sure to come in handy especially for those who opt to adopt pets from shelters. But there are also some good tips about how people should treat one another. Great illustrations within and a beautiful painting of Darcy and Belle on the cover round out a wonderful reading experience. — Joan Joan Schweighardt at www.ourplacetopaws.com



An Apricot Year

Martha Egan

Papalote Press
ISBN 978-097558816-1 $25.95



Luli Russell of Green Bay, Wisconsin, has been a wife and mother for twenty-eight years, putting aside her dream of being an artist. She ignores the signs of her husband's infidelity and bears the indignity of his drunken abuse, all the while hoping that one day she can again pick up her paintbrushes and follow her ambition.


For her 50th birthday, her family rewards her with a most cherished gift: an all-expense-paid month in Santa Fe, New Mexico, along with brand-new paints and brushes. She is overcome with love and gratitude.


She makes friends in Santa Fe with a couple she meets as they assist a homeless man who has been hurt in the street. This friendship continues to grow even after Luli has to cut short her stay in Santa Fe because of her husband's final destructive blow to their marriage. She ultimately returns to Santa Fe with nothing left and must attempt to piece together a new life and find work to make a living.


A quirky turn of events takes her on a hurried trip to the Caribbean to locate a treasure supposedly hidden there. Romance and adventure invest the trip with a fairy tale quality, with a conclusion that leaves the reader satisfied that life will work out well for Luli after all.
Reviewed by Lola R. Eagle — www.ReadingNewMexico.com, August 2012


A Spy Goes West
Philip C. Jackson

CreateSpace

ISBN: 978-1460964972 $14.95


Philip C. Jackson became an American Civil War buff nearly 25 years ago after watching a PBS special featuring historian Shelby Foote's research of the war.
"At some mental level, I feel connected to the Civil War and pre-twentieth century life," the author said when asked why he writes in this era.

In Jackson's first novel, "A Spy Wears Two Hats," the protagonist, 15-year-old Tommy Miller, becomes a double agent for the Confederacy during the second year of the conflict.
In the sequel,
"A Spy Goes West," Miller is three years older, and his narration picks up at the war's ending in 1865.
It is April 14 of that year and Lincoln is assassinated at Ford's Theater. Tommy witnesses the chaos. He returns to his Virginia farm with a new sense of direction: to do less farming and more law enforcing as a co-partner in the Miller-Pinkerton Detective Bureau.
Soon after, he gets a call from John S. Mosby.
The Confederate colonel wants Miller and associate Roger Pinkerton to go into New Mexico and Colorado territories to infiltrate Indian activities and to protect the U.S. Postal Service against raiders. Miller's wife, Janey, joins the horse-and-buckboard journey from Virginia to Colorado.
Along the way, the trio meets Jesse James and, later, Wild Bill Hickok, both of whom take an immediate liking to the Millers and travel transiently with them. The outlaw James even goes as far as fatally shooting two of his own gang members for stealing from the Millers. Throughout the trip, which takes several months, Tommy, Janey and Roger come across trail scouts, Indian guides, and U.S. horse soldiers who assist the travelers across unfriendly territories.
In one attack in New Mexico, Tommy Miller takes on Kettle Cover, a retaliatory Cheyenne chief, in a single combat that leads to the warrior's capture.
"When desperation overwhelms odds, the impossible often happens," Jackson said of young Miller's conquest over the more experienced Kettle Cover.
Not everything goes well. Pinkerton's permanent departure comes unexpectedly, and there are encounters with road bandits and Kansas Indian raids.
The novel then fast-forwards to 1876. Tommy and Janey are Colorado homesteaders and parents of ten-year-old Roger. At 29, Miller is once again summoned by Mosby to serve his country—this time to monitor the Indian attacks of Col. George Custer and the Seventh Cavalry in the Dakotas.
This might be Tommy's final hurrah for already he is contemplating changing careers. On page 151, he muses:
Traveling salesmen seemed to exist in a world of their own. Wonder if I could do something like that? Maybe I'd give it a try someday.

As the book comes to its ending, Tommy Miller meets Custer and gives him some simple advice. Had the colonel taken it, it might have spared the colonel's ignominious death at the Little Bighorn River. "Such a display of arrogance from a decorated military officer made me wince," Miller says in retrospect.

"A Spy Goes West" is entertaining historical fiction, spiced with fictitious and legendary characters
and
Wild West adventure.
The author's descriptions are lucid and dialogues define the characters well. For the target audience—young adult readers—there is a peek into post-Civil War activities . . . with plenty of imagination to draw from.
Reviewed by Tom Sanchez www.TRSwriter.com